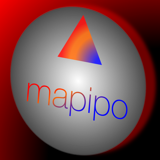 mapipo is a free AV&N (Audio, Visual & Navigation) application for iPhone/iPad.
This site explains detail specs, useful tips, and trouble shootings.
〜Function overview〜
--- All capabilities are FREE ---
【Map】
・Great Google Maps, substantial informations, full screen mode.
・3 types of map. Standard, satellite, and hybrid.
・3 types of layers on map. Traffic, Transit, and Street view area.
・Easy access to the functions. Only long pressing on the map. Set location, display street view, and more...
【Street view】
・The first app that support continuous walk through mode by long pressing. Automatic control of turning angle. Human like moving, not like as a crab.
・A kind view point. View point is in front of crossing when waypoint is selected. Not on the center of crossing.
・You can simulate and understand the route before driving. It's very safety.
・Map and street view can diplay on the same window. Window separator can change the display area balance.
・Map angle can be followed by street view viewing angle. You never get lost.
【Navigation】
・Fine tuned 3 modes. Car, Walk, Transit.
・Intelligent auto rerouting for car and walk mode.
・User defined 7 pass points. "Pass" button always be able to add pass point on the route. You can make your way. Of course can be used for escaping traffic jams.
・When you forget turning point and go stratight, then auto reroute triggers, you may feel that next pass point you set is out of date and no necessary. No problem, "-1" button removes nearest pass point very smoothly. Again, you never get lost.
・Can save route configurations including pass points to shortcuts or Contacts.
【AV capability】
・Do you like music? This app can select music or video library. No need to change to music/video apps.
・Left/right flick on D-Pad can skip song. You can replay same song from start very easily.
・You don't need AV? Yes, AV capability can be ignored by settings.
【Others】
・Parking location reminder. Auto record location when pressing home button after parking or switch to walk mode. You do not need to remember to record external Parking location reminder app. This app records location appropriate timing.
・Parking memo function is useful for indoor parking.
・Customized button/theme color.
・Support landscape.
・Keep backlighting. Ignore auto lock while using this app.
・Support proximity sensor to show/hide Street View, back to current location, or showing menu (iPhone portrait only, default:off) .
・Support electric compass.